Hey, again. Much of the wiki's features are running sloppy today, presumably due to server maintenance.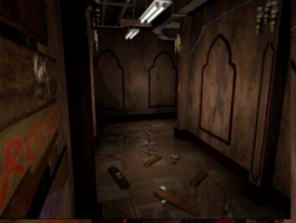 Above is this week's featured image. If you look in the left side of the background shot, you'll see that some insane survivor - possibly under the influences of their imaginary friend - wrote the word "REDRUM" on the window while awaiting their death. We're hoping to expand on the "List of easter eggs in Resident Evil 2" in time for Easter, itself.
Notable new articles




Updates in brief

We expanded Tǔ's article, significantly, and provided an image of the mutant.
The lyrics to Yume de owarasenai are now spelt how they are in the official transcript provided with the Single.
Ad blocker interference detected!
Wikia is a free-to-use site that makes money from advertising. We have a modified experience for viewers using ad blockers

Wikia is not accessible if you've made further modifications. Remove the custom ad blocker rule(s) and the page will load as expected.