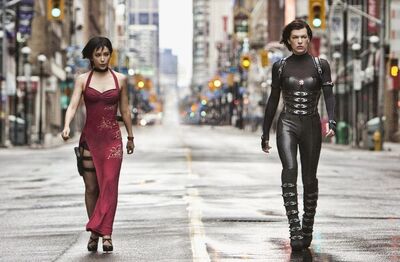 In the new Resident Evil: Retribution movie starring Milla Jovovich, Sienna Guillory, Michelle Rodriguez, and others, Alice comes back to fight alongside a resistance movement in the continuing battle against the Umbrella Corporation and the undead.
The franchise generally has not been loved by critics as much as its fans have enjoyed it. Famed critic Roger Ebert even said before, "I enjoyed the settings, the periods and the acting. I can't go so far as to say I cared about the story, particularly after it became clear that its structure was too clever by half."
But all is not lost for Resident Evil! Check out the reviews below and give your own opinion!
Loved It
So far, no professional film critics loved Resident Evil: Retribution as far as we could find.
If you find an exemplary review, post the link in the comments section below!
Thought It Was Okay
Score: 6.0 out of 10

Even with all of its dopey dialogue, wooden characters and "been there, done that" elements, Resident Evil: Retribution is pretty decent as far as entries in this series go. It's certainly feels more like a video game and has a bit more emotion to it than some of the past Resident Evil sequels, but if you don't like this series then there's not much here to make you suddenly warm up to it. And if you do like the Resident Evil films, then you'll likely leave the cinema content with how you've spent your time.
Watch IGN's video review:
Hated It
Score: 1.5 out of 4 stars

It's all the same blah-blah carnage as the first four flicks, with 3D effects hurling blood, blades and body parts into the audience amid a non-stop barrage of gunfire and explosions.
Score: F

This movie feels like it was written and directed...very lazily! The 3-D effects, much like the fight sequences, are shoddy at best and never seem near rousing. There's no jaw-dropping moment, no twist or turns...and nothing that adds value to the plot. This is one of the most mundane flicks ever...
Score: 1 out of 5 stars

Jovovich does her best to bring some genuine edge to a generic exercise, but without help from the outside, all her efforts are squandered in this whistling cinematic vacuum where every character feels cloned and every scrap of plot feels clichéd.
Score: F

Another movie comes out to bad reviews, and as our punishment they keep making more.
Wikian Reviews
Well, what did you think of Resident Evil: Retribution?
Don't forget to leave your own reviews in the comments section!
---
---
Ad blocker interference detected!
Wikia is a free-to-use site that makes money from advertising. We have a modified experience for viewers using ad blockers

Wikia is not accessible if you've made further modifications. Remove the custom ad blocker rule(s) and the page will load as expected.