Comments

26
Chris and Jill married in Resident evil 6?
Hey guys, I just read this article check it out:
Biohazard France made scans of the Game informer Magazine, Guess what's written?
"Chris married his longtime partner Jill Valentine after her rescue in Africa three years ago"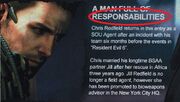 Some say say it's real, some say it's an April-fool joke,
What do you think?