In the new Resident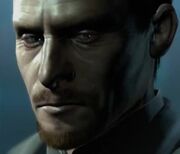 Evil 6 trailer...
http://www.youtube.com/watch?v=LOCB2mDz5ps
... when CarlAda tells Jake that he is Wesker Junior, we see another man for just about a millisecond, and since the woman is talking about Wesker at that point, I thought it is, well, Wesker. But he doesn't look like him, so who is he? If you're fast enough, pause at 1:44-1:45 to see him. Could he be that mysterious new character called "Drake Simpson" everyone at Resident Evil Answers was talking about a few weeks ago?
Ad blocker interference detected!
Wikia is a free-to-use site that makes money from advertising. We have a modified experience for viewers using ad blockers

Wikia is not accessible if you've made further modifications. Remove the custom ad blocker rule(s) and the page will load as expected.