In honor of Resident Evil: Retribution, the 5th film in the series that will be released on September 27th, I've compiled a collection of clips from the movies. These are the best kill scenes, and we need you to vote on your favorite one! Watch the clips and vote in the poll at the bottom of the page.
A bit tacky? Yes. Hilarious? Yes. The Death Race reference may not be welcomed, as that film wasn't exactly the finest work of Paul W. S. Anderson, but the Grand Theft Auto reference is money!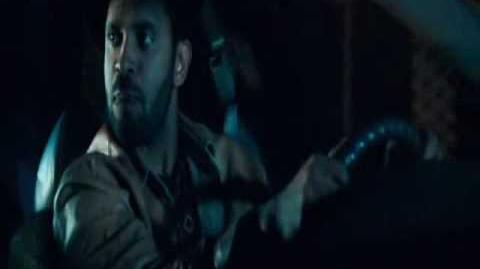 Where's the last place you would expect to find a Licker? If you answered "riding a motorcycle up the wall of a church", you're insane, but not as insane as director Alexander Witt, who made it seem amazing.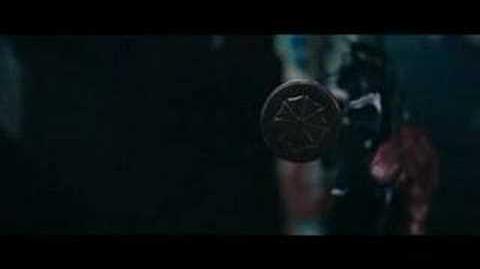 Afterlife has a lot of great kill scenes, having made this list three times. Who wouldn't want to kick a large pane of jagged glass through the face of a monster?
I'm aware that this movie doesn't come out for another couple of weeks, and more kill scenes will inevitably be added to our list when Alice goes on a rampage across the globe, but this sneak peek clip is just too good to refuse.
Axeman is just a badass mutated zombie freak of a villain, so any time you set out to destroy him, it's probably going to be a pretty entertaining fight.
You would be hard pressed to find another scene from a Resident Evil movie, or any movie for that matter, with more head-shots, throat cutting, decapitations, and general zombie bloodbathery (which isn't even a word), all in a really cool setting to boot.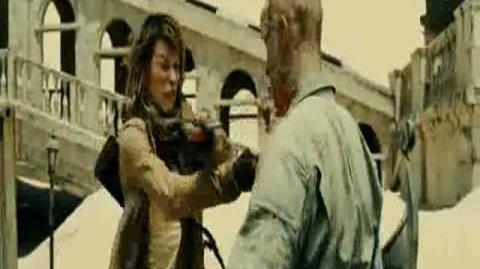 This has to be one of the most creative kill scenes in the history of zombie annihilation. Like a pack of lemmings, the zombies chase Alice off the rooftop, but of course it's all part of her crazy masterplan!
Poll
Which Resident Evil kill clip is your favorite?
Did I forget any clips? Post links in the comments section below!
Ad blocker interference detected!
Wikia is a free-to-use site that makes money from advertising. We have a modified experience for viewers using ad blockers

Wikia is not accessible if you've made further modifications. Remove the custom ad blocker rule(s) and the page will load as expected.