Lady Hunk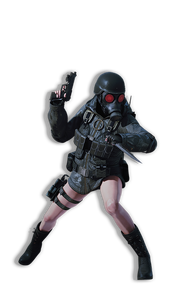 Capcom has announced a new character that's playable in Raid Mode.
This new character is called Lady Hunk (Redi-hanku); a female character that sports the top half of Hunk's suit. It has also been said that she possesses a high magnum reloading speed.
Both Lady Hunk and Ooze Rachael will be available for purchase on June 11th.
-Note: Since Lady Hunk is a character in Revelations, I will create a page for her.
Weapon DLC
Capcom has also announced that there will be two weapon packs-Resistance Set & Enhancement Set-that contain six custom parts each.
Both DLC packs will be available on June 4th.
RE.net is Down for Maintenance
Today, the RE.net site is down for maintenance and will be back up and running tomorrow.
I believe this is due in part that they are renovating the Revelations section; so that they can add similar online features to it from RE6; features such as avatars, wallpapers, online Raid Mode challenge boards, and possibly making diorama figures purchasable.
Currently, the layout has been changed and users are able to access a default page and choose which game (Revelations or Resident Evil 6) they'd like to log in to. But users are unable to go past that point since the site is still undergoing updates.
Possible RE7 Poster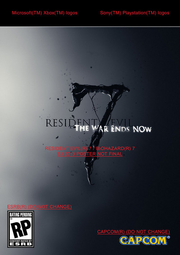 This poster recently surfaced and it has been rumored to be the E3 promotional poster for Resident Evil 7. Though, it's a poster that still seems to be in the works.
Capcom neither denies nor confirms if this poster is real or if RE7 is in development.
Ad blocker interference detected!
Wikia is a free-to-use site that makes money from advertising. We have a modified experience for viewers using ad blockers

Wikia is not accessible if you've made further modifications. Remove the custom ad blocker rule(s) and the page will load as expected.