Comment

1
Milla Jovovich Tweets a Christmas Video From the Set
[[Milla Jovovich|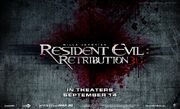 Milla Jovovich]] is one of the most active people I have seen on Twitter. She replies to tons of people, and loves leaving pictures and videos. One such video, posted a few days ago, is a holiday greeting from behind the scenes of the latest Resident Evil movie,
Resident Evil: Retribution
. The video can be found either on her twitter feed (
@MillaJovovich
) or from the link right
here
.
Are you excited about the new movie? Let us know in the comments!