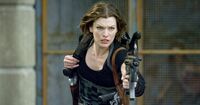 Milla Jovovich has recently revealed some character information and plot details to Screen Rant about the upcoming movie Resident Evil: Retribution. The movie is once again being direct by Paul W. S. Anderson.
Jill Valentine who will be played by Sienna Guillory will be the leading antagonist in the film. The film is going to include several fan favorite characters including Leon Scott Kennedy, Barry Burton, and Ada Wong.
Other confirmed details by Jovovich include:
Source
Ad blocker interference detected!
Wikia is a free-to-use site that makes money from advertising. We have a modified experience for viewers using ad blockers

Wikia is not accessible if you've made further modifications. Remove the custom ad blocker rule(s) and the page will load as expected.