Mainstream universe
(Capcom's primary storyline)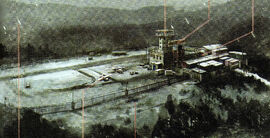 The Valkoinen Mökki Airport was an airbase used by the terrorist group "Il Veltro" in 2005. It bears a Finnish name - "valkoinen mökki" that translates as the "white cabin". The airport is located somewhere in the mountainous, snowy region of northern Europe. Quint Cetcham and Keith Lumley were deployed there by BSAA director Clive R. O'Brian to investigate the area because of a plane crash that was reported by Chris Redfield and Jessica Sherawat, not long before being deployed.
Ad blocker interference detected!
Wikia is a free-to-use site that makes money from advertising. We have a modified experience for viewers using ad blockers

Wikia is not accessible if you've made further modifications. Remove the custom ad blocker rule(s) and the page will load as expected.