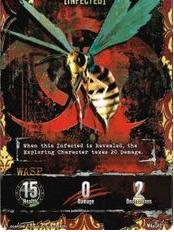 Wasps are Infected cards introduced in the third set Outbreak. They are relatively weak Infected, only having 15 Health and dealing no base damage. They do have an effect however; once they're revealed they deal 20 Damage automatically. Similar to the effects of Set 1's Nemesis-T Type and the Guardian of Insanity (MA-037), its an effective way to bypass the Level 1 effect of the promotional Chris Redfield card, which nullifies damage from weaker Infected. Its worth only 2 Decorations upon its defeat.
Ad blocker interference detected!
Wikia is a free-to-use site that makes money from advertising. We have a modified experience for viewers using ad blockers

Wikia is not accessible if you've made further modifications. Remove the custom ad blocker rule(s) and the page will load as expected.