The way to the heliport (ヘリポートへの道, Heripōto e no michi?)[1] is an area of the Arklay Laboratory.
Description
The passage leads to the elevator that is going up toward the Heliport. In Remake, couple of fences appears to be blocking the shutter.
Guide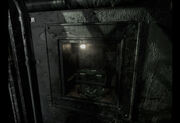 In the original
Resident Evil
,
Jill
will accompany Chris undergo the passage. On the way, a signal from
Brad
can be heard where he requests someone anyone to send any sort of sign. As the player reaches the end of the passage, a battery can be seen lying on the ground. Once it's placed,
Rebecca
will appear, but soon a huge roar can be heard. Jill and Rebecca decided to stay, leaving Chris to make contact with Brad. As Jill,
Barry
will follow her on the way to the heliport.
In Remake, a Fuse unit can be placed back onto its place to activated the elevator.
Examines
Resident Evil
Location
Localization
Original Script
Battery fuse
The battery is pulled out.
Resident Evil (2002)
Checking the elevator (No power)
The elevator isn't working. Better get the power back...
Fuse unit
The elevator isn't receiving power. The fuse unit is missing.
Gallery
1996
2002
Background
1996
2002
Bibliography
Sources
↑ Takeo (ed.), Inside of BIO-HAZARD, p.110