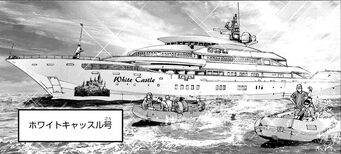 White Castle was a large yacht owned reality show Idol Survival that was used to transport the equipment and competitors to Sonido de Tortuga Island to the Emerald Beach. Its engine room was sabotaged by a masked creature to prevent the crew's escape.[1]
Darrell (White Castle Sailor) (deceased)
↑ BIOHAZARD heavenly island VOL.1, Heavenly Island.
Ad blocker interference detected!
Wikia is a free-to-use site that makes money from advertising. We have a modified experience for viewers using ad blockers

Wikia is not accessible if you've made further modifications. Remove the custom ad blocker rule(s) and the page will load as expected.