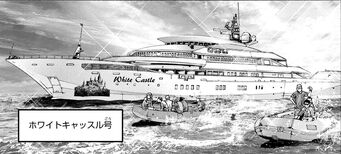 White Castle was a large yacht owned reality show Idol Survival that was used to transport the equipment and competitors to Sonido de Tortuga Island to the Emerald Beach. Its engine room was sabotaged by a masked creature to prevent the crew's escape.[1]
Crew
Darrell (White Castle Sailor) (deceased)
Sources
↑ BIOHAZARD heavenly island VOL.1, Heavenly Island.