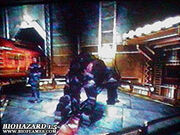 Over the course of Resident Evil 2's development cycle, repeated alterations were made to the transforms William Birkin was to appear as. In the 1996 prototype, dubbed "BIOHAZARD 1.5", two transformations were in fact based on "Golgotha" and "Zeiram", who contenders for the final boss design that were rejected in the concept art phase. When the game was re-tooled in mid-1997 following Yoshiki Okamoto's takeover of the project, the "G" mutations were re-designed originally.
Ad blocker interference detected!
Wikia is a free-to-use site that makes money from advertising. We have a modified experience for viewers using ad blockers

Wikia is not accessible if you've made further modifications. Remove the custom ad blocker rule(s) and the page will load as expected.