Ad blocker interference detected!
Wikia is a free-to-use site that makes money from advertising. We have a modified experience for viewers using ad blockers

Wikia is not accessible if you've made further modifications. Remove the custom ad blocker rule(s) and the page will load as expected.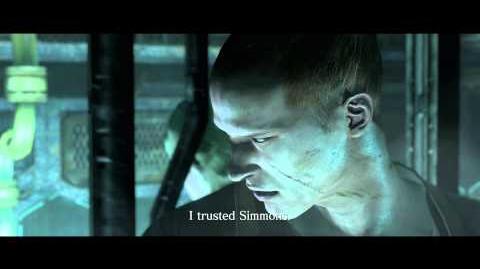 Worry is a cutscene in Resident Evil 6 storyline. It is played at the beginning of Jake Chapter 5.
Plot
| | |
| --- | --- |
| | This section is empty. You can help out the Resident Evil Wiki by inserting the appropriate content here. |
Transcript
Sherry: I'm sorry.
I trusted Simmons.
I should've been able to see through his lies.
This is all my fault.

Jake: You were just following orders, right?
I thought you were doing the right thing.
Find the vaccine, save the world and all that.
Sherry: ごめんなさい...
私がシモンズを信用したばっかりに...
彼の嘘を見抜けなかった
全部 私のせいだわ

Jake: シモンズに言われたからやってたのか?
ワクチン作って世界を救うのは...
Resident Evil 6 cutscene library
Leon Story
Chris Story

Chapter 1
Chapter 2
Chapter 3
Chapter 4
Chapter 5
Ending

Jake Story

Chapter 1
Chapter 2
Chapter 3
Chapter 4
Chapter 5
Ending

Ada Story

Chapter 1
Chapter 2
Chapter 3
Chapter 4
Chapter 5
Ending