Yoshiaki Hirabayashi is a Capcom programmer; writer and producer who has been associated with the Resident Evil franchise since 2002.
Hirabayasi worked as a motion capture engineer for the remake of Resident Evil[1] and as a Scenario writer in the Script department for Resident Evil 5.[2] As a producer for Resident Evil 6, Hirabayashi wrote a message to Resident Evil fans regarding Jill and Claire's appearance in the game; his referral to "other great characters" suggested that they would not appear.[3]
Hirabayashi later in 2014, presented several update videos of the Resident Evil HD Remaster on the official Resident Evil YouTube channel.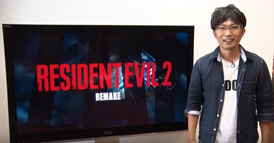 Hirabayashi asked fans following the official Resident Evil Facebook page under the name "H", what their thoughts were on the matter of a Resident Evil 2 remake, then relaying his findings to Capcom's R&D Division 1. he officially announced the Resident Evil 2 remake on August 12, 2015 in a YouTube Video, several weeks after asking the fans.[4]
Further notes
Edit
When asked what his favorite memory of the original Resident Evil 2 was, Hirabayashi stated "I love Ada."[5]