Ad blocker interference detected!
Wikia is a free-to-use site that makes money from advertising. We have a modified experience for viewers using ad blockers

Wikia is not accessible if you've made further modifications. Remove the custom ad blocker rule(s) and the page will load as expected.
SkyWalker
(The SkyWalker Comics mythos)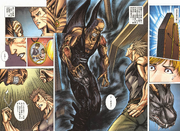 The Zombie King was a winged mutant sealed within a coffin in the death castle. He appears in biohazard 0.
Further notes
Edit
The Zombie King is based on the "Crimson Head Prototype 1", a boss in the 2002 Resident Evil remake.
SkyWalker manhua characters

biohazard 0

Capcom characters
Original characters

BIOHAZARD 3 LAST ESCAPE

Capcom characters
Original characters

BIOHAZARD 3 LAST ESCAPE Extended Version
BIOHAZARD CODE: Veronica